Team Teddy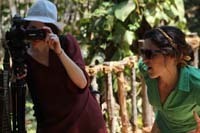 Team Teddy is a group of volunteer artists, performers, and film makers.

Our small but knowledgeable crew blends artistic sensibilities and state of the art technologies to dynamically bring the characters to the screen.

---
Creator/ Director/ Puppeteer - Dennis Eustace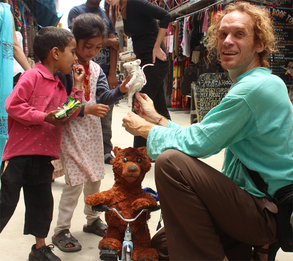 Dennis has been working in puppetry and film/video for 18 years. He is the creator of Teddy The Traveler, Miss Tickle Mouse, and designer for all aspects of production, puppets, and sets.
His love of world cultures, traditional stories, and mythology has led him to produce many puppet shows performed at festivals, children museums, and cultural centers.
He combines his various talents in directing, story telling, performance, puppet fabrication, editing, and motion graphics to create this unique educational program.
Dennis is also the stop motion animator as well as the Foley artist and voice artist for many of the puppets.


---
Producer - Jacob Devaney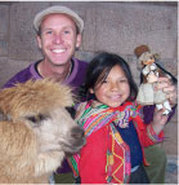 Jacob is the Founder and Director of Culture Collective. Culture Collective is a federally tax-exempt non-profit that inspires artists, educators, activists & non-profits to collaborate across disciplines to produce media content that brings positive environmental and social action into the local and global community. Culture Collective is supported through
The Creative Visions Activist Network
, which hosts hundreds of talented media-creators and artists. Learn more at:
www.culturecollective.org
Jacob is also Co-Founder of Giggle Bubble Media www.gigglebubble.com
and brings over 15 years of experience working with children, performance, media, cultural programs, circus arts, production, and cross-platform storytelling to Team Teddy.
---
Director of Photography - Chase Bowman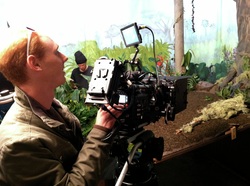 Chase Bowman's
magic brings "What happened To The Reptiles?" to life with beautiful lighting, elegant camera moves, and thoughtful composition.
www.chasebowman.com
---
Editor/ Camera Operator
- Elizabeth Ray


Liz Ray is not only the editor she ran camera for over two months of shooting in India. She helped create the monkey puppets and their role in Teddy's adventure.


---

Puppeteer/ Singer
- Heather Normandale


Heather performed and operated Miss Tickle Mouse on the road in India as well as doubling as sound recordist.

Besides being a pert of Team Teddy, she has her own band! Also you can get a first hand account of her travels in India by clicking Wind Blown Travels

---
Additional Puppeteers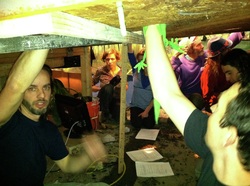 Larry Schmidt, Kristen Parks, Slim Chance, Paul Hilliard, Jeremy and Stephanie Gameros, Anka, Zoe, and Mattatude.

---